Adopt the latest highest performance ADI 5 series processing chip ,

operating
more fast and more
accuracy ,sounds effect has much more improve too .
The computer software comes with a professional-grade RTA spectrum display , feedback point m
ore accurate and intuitive , debugging more convenient .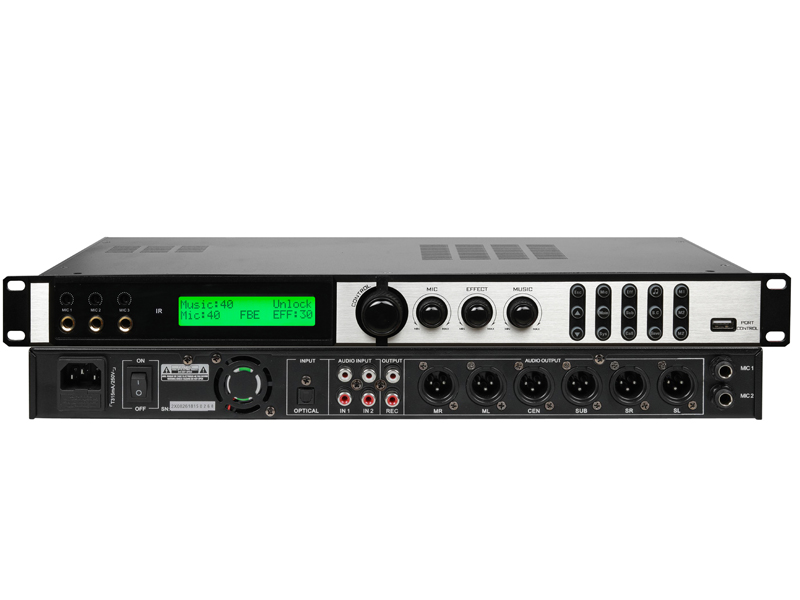 ●Adopt ADI chip designed , 64-Bit high-speed
dicaryon

DSP processor
●The Music channel has 9 segments PEQ stereo equalizer ,and
Identify
optical digital input automatically .
●The microphone has 15 segments PEQ adjustment
, fully digital audio process system . Stereo DSP multiple digital reverb .

The vocals are more professional
●Microphone mute setting . Independent compress / limit designed ; Optional 2Hz~8Hz frequency shift feedback suppression .
a
nd "OFF"
optioned .
●The effect channel has high/low pass ; Reverb and echo has 5 segments of PEQ
respectively...etc .
●Each output channel has 7 segments of PEQ respectively , high/low pass adjusted , mixing ratio ,
polarity ,delay , compress / limit , gain function .
●Support VOD IR interface controller .
●Support RS232 connect to computer controller , comes with professional PC controlled software .
●It has RTA frequency spectrum display , to find the feedback point effectively to cancel the hawling .
●3 levels
engineering password lock function
,
The device lock level can be set by yourself accordingly.
●9 Groups system mode could be save , the turn on status is the data of the one which saved by last time .
Parameter
MAX input

electrical level
for music

: +14dBu(4V RMS)
MAX output

electrical level
for output CH

: +14dBu(4V RMS)
Music gain: 0dB、+3dB、+6dB(
optional)
Microphone sensitivity: 64mV(Out:4V)
S/N: >90dB
Power supplied: 220V/AC/50Hz
size: 483*218.5*47.5mm
Net weight : 3.5KG